The Mighty Quest for Epic Loot

---
https://www.meilleurjeuenligne.fr/jeux-a-telecharger/mighty-quest-epic-loot.html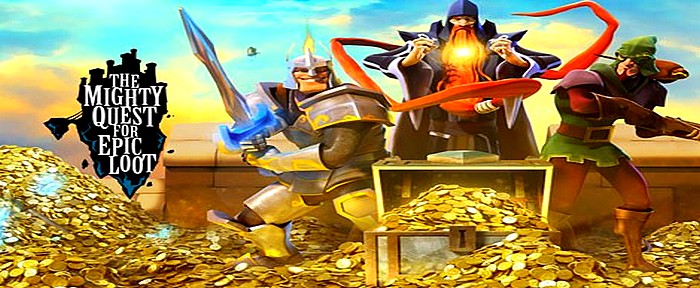 Présentation The Mighty Quest for Epic Loot

---
Nous sommes fiers d'ajouter un nouvel opus d'Ubisoft dans notre longue liste de jeux en ligne gratuits. Et quel jeu ! The Mighty Quest for Epic Loot. Ce petit bijou recèle de nombreuses qualités comme le richesse de son gameplay et l'humour et la profondeur des personnages par exemple.
Dans The Mighty Quest for Epic Loot, tu devras prendre le rôle d'un brave chevalier, un archer agile ou un puissant mage pour piller le royaume d'Opulenzia. L'humour et la dérision ne seront pas en reste dans un monde médiéval fantastique qui a été superbement réalisé.
Une histoire scénarisée
En tant que nouvel arrivant dans la ville d'Opulencia, tu vas vite prendre conscience que les voisins qui t'entourent ne sont pas des gens très fréquentables. Ils sont toujours à l'affût et n'hésitent jamais à te dérober le moindre objet qui t'appartient. Tous veulent le plus beau château, tu devras très vite couper des têtes pour t'imposer et devenir le héros le plus riche du pays !
Dans le jeu médiéval The Mighty Quest for Epic Loot tu devras te frayer un chemin à coups d'épées, de sabres dans des centaines de châteaux avec une ambiance humoristique. Le gameplay est vraiment très agréable et facile à prendre en main. Très vite, l'enchaînement des attaques procurent de bonnes sensations.
 Le Gameplay de The Mighty Quest for Epic Loot
Le jeu évolue en deux phases. Des phases d'attaques et des phases de gestion/défense.
Lors de tes attaques, ton but et d'atteindre la salle de trésor de l'ennemi dans un temps imparti pour lui prendre ses ressources. Pour cela il faudra passer aux travers de nombreux pièges et vaincre des monstres que votre opposant (joueur réel) a disposé dans son château.
Une fois l'attaque passée, tu devras gérer ton château, sous tout les angles : économie,  défense, aménagements…
Le but étant de ne pas se faire voler son butin, il faut faire au mieux sa défense afin de tuer les assaillants quand ils viennent ou à défaut leurs faire perdre assez de temps pour que les grilles de vos coffres vous protègent de tout vol.
Tu l'auras compris, The Mighty Quest for Epic Loot un jeu riche en action avec une belle dose d'humour. Le jeu demande de l'adresse et des qualité de gestionnaire…
The Mighty Quest for Epic Loot en images
Si tu cherches un jeu comparable à The Mighty Quest for Epic Loot fait ton choix ici